Kedves Faiparban Dolgozó Barátunk,
átdolgoztuk a forgalmunk oroszlánrészét adó DunaTREND ABS árlistánkat. Beszúrtuk az Egger, Kronospan, Falco és Kastamonu megfelelőségek mellé a Kronoswiss és a Sorbes/Byspan lapokhoz tartozó élanyag ajánlásokat is. A nyomtatott A4-es verziónak többé-kevésbé itt a vége, több forgácslap gyártóhoz a jelenlegi árlistánk formátuma már nem lesz elég. Így is 47 oldalt tesz ki a raktárról kapható 427 ABS dekor árlistája. A tölgyeket már nem is számolom, de sima fehérből!! is van 8 féle színű raktáron. Hol van már az a világ, hogy létezett egy - kicsit sárgás - korpusz fehér, aztán hello.
A fenti forgácslap gyártókhoz kéretik hozzávenni a Magyarországon szintén kapható Fundermax, Pfleiderer és Polyrey lapokat és igen gyorsan érthető is lesz a 8 féle sima fehér ABS. Minden gyártó megalkotta a saját kékesfehér árnyalatú lapját, melyhez persze véletlenül sem passzol a versenytárséhoz legyártott ABS. A dekor féleség mellett ez mutatja meg igazán a piacvezető élanyag gyártók és forgalmazók és a török / lengyel PVC gyártók közötti különbséget.
Ha már beletett a Dunás csapat egy csomó energiát a DunaTREND ABS-ek lapokhoz való megfeleltetésébe, akkor jó árasítottuk a legújabb ABS dekorjainkat is. Ez azt jelenti, hogy az Exclusive csoporton belül 7 Uni színű ABS-t és 19 Fautánzatút ugyanúgy fix áron kínáljuk, mint a legjobban futó Uni és Fautánzatú ABS-eket. ( Csak infó: Ezzel a fix árax Uni dekorok száma: 14-re, a fix áras fautánzatok száma pedig 40-re változott )
A DunaTREND ABS-ek új árlistáját és a dekorokhoz tartozó forgácslap megfelelőségeket feltöltöttük a WEB áruház szokott helyére a "Letöltések" fülbe. Akit érdekel: Kérem kattintson ide!
Az új DunaTREND Exclusive csoportnak készítettünk egy új fület = kattintható felületet, mely a WEB áruházas részben található!
( csak infó: Ha le van töltve a Dunás árlista .pdf formátumban, akkor keresni benne a "Ctrl" és az "F" gombok együttes lenyomásával lehet. Ekkor felugrik egy kereső ablak, amiben ha pl. beütjük a Kastamonu A842-es lapkódját, tehát az A842-t, akkor azonnal mutatja, hogy a keresett élanyag a 806690-es ABS. Ez a kereső működik offline = akkor is, ha egy számítógép nem csatlakozik az internethez)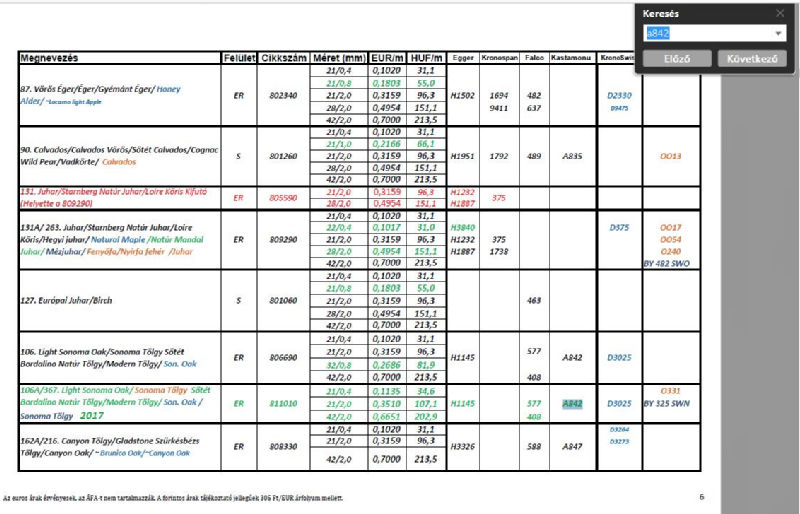 Ennél lényegesen komfortosabb a Dunás WEB áruház nyitó oldalán a felül található piros színű "Keresés" gomb, mely mindenre keres. Forgácslapra, dekorszámra, vasalat elnevezésre stb. Itt persze kell az internet kapcsolat.
Ha ellenben valamire rákerestünk + be is vagyunk a Dunás WEB áruházba jelentkezve, akkor mutatja az éppen aktuálisan elérhető pontos raktári készletünket is. A fenti AK806690 Light Sonoma Oak dekorra rákeresve látszik a ma éppen aktuális 23.985m összkészletünk tekercsre pontos lebontása: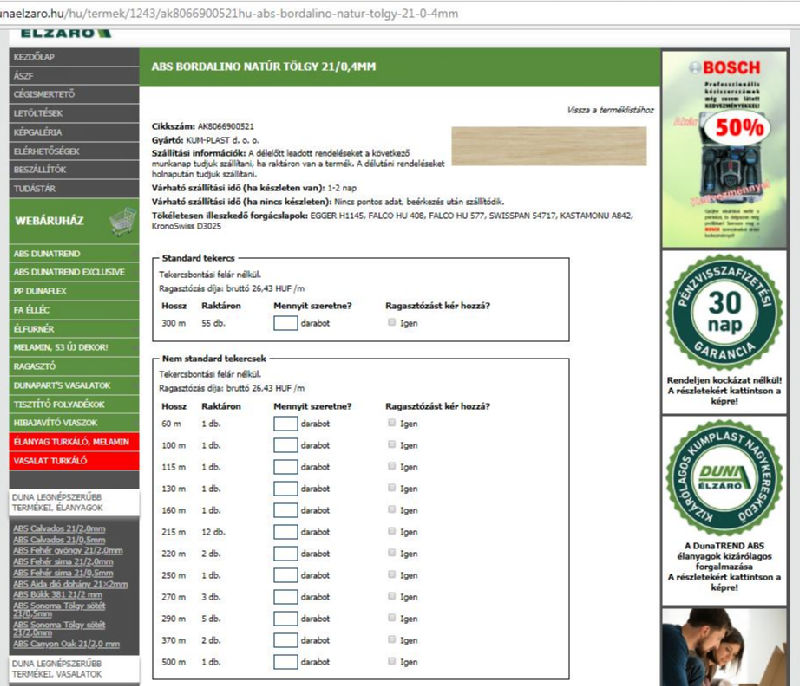 Ha valakinek standard hosszúságú tekercsek kellenek, úgy választhat azt. Ha ennél kevesebb az igény, vágathat magának 100 Ft/db felárért egy bármilyen méretet, vagy vihet felár nélkül a fenti maradék tekercsekből. Akinek nem sikerül az élanyag rendelését a tényleg egyszerű folyamaton keresztül véghezvinnie, annak a Dunás csapat természetesen szívesen segít.
30.000 Ft áruérték felett ingyenes a házhozszállítás és az első megrendelését - értékhatártól függetlenül - egy 10€-s = kb. 3150 Ft-os bónusszal jutalmazzuk, amit a második megrendelésénél érvényesíthet.
2. Heti Dunás vasalat akció ( - 20%)
2018. március 26-ig ( vasárnap éjfélig ) húsz százalékos árengedményt adunk a GTV-s rejtett, csillapítós, részleges kihúzású fiókcsúszókra, az asztalba süllyeszthető konnektorokra és a konyhai polcok alá / gardrób szekrényekbe utólagosan is szerelhető LED bútor világításra és egyéb LED-es tartozékokra: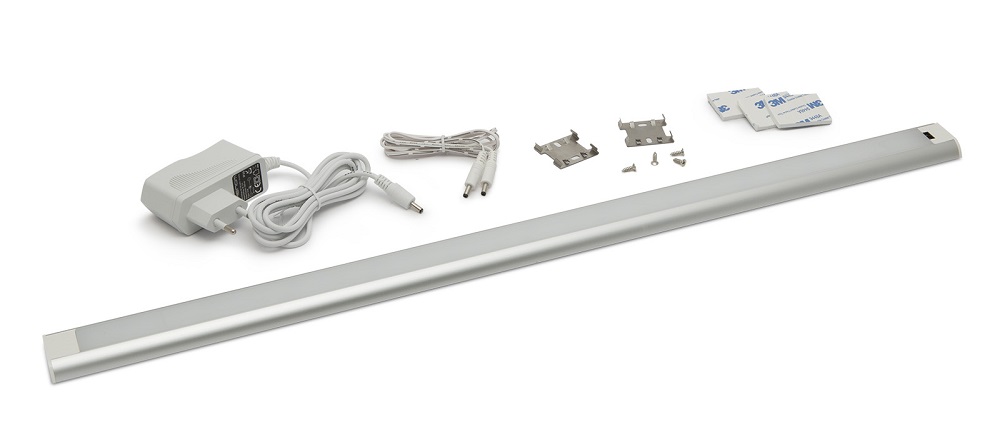 A képekre való kattintás azonnal a Dunás WEB áruház megfelelő termékoldalára visz!
A heti 20%-os Dunás vasalat akció áttekintő táblázatát és az árakat feltettem szintén a "Letöltések" fülbe. Akit érdekel: Kérem kattintson ide!
További kellemes hetet kívánok,
Üdvözlettel:
Dr. Nagy Béla Norbert
tulajdonos
és a Duna Élzáró Csapata
kumplast
Exclusive distribution of DunaTREND ABS products
Click on the picture for details!