Kedves Faiparban Dolgozó Barátunk,
örömmel jelentjük, hogy a szlovén élanyag beszállítónk, a Kumplast cég 100%-al növelte a vágási kapacitását! Szükség is volt rá nagyon! A tavalyi gépfejlesztés ugyan a duplájára növelte a legyártható élanyagok mennyiségét ( 6 ABS gépsoron folyhat az anyatekercsek gyártása ), de ezt a fejlesztést nem követte a vágókapacitás növelése. Ennek az eredménye az lett, hogy hegyekben állt a legyártott ABS anyatekercs, mégsem volt elég méretre vágott élanyag. Mivel múlt hét óta mindegyik gépsorba integrálva lett egy vágógép, így a jövőben a kész méretre való vágás azonnal megtörténik. A meglévő 3 db gyorsfutásúval pedig a speciális vevői szélességi igényeket tudják a szokott módon legyártani.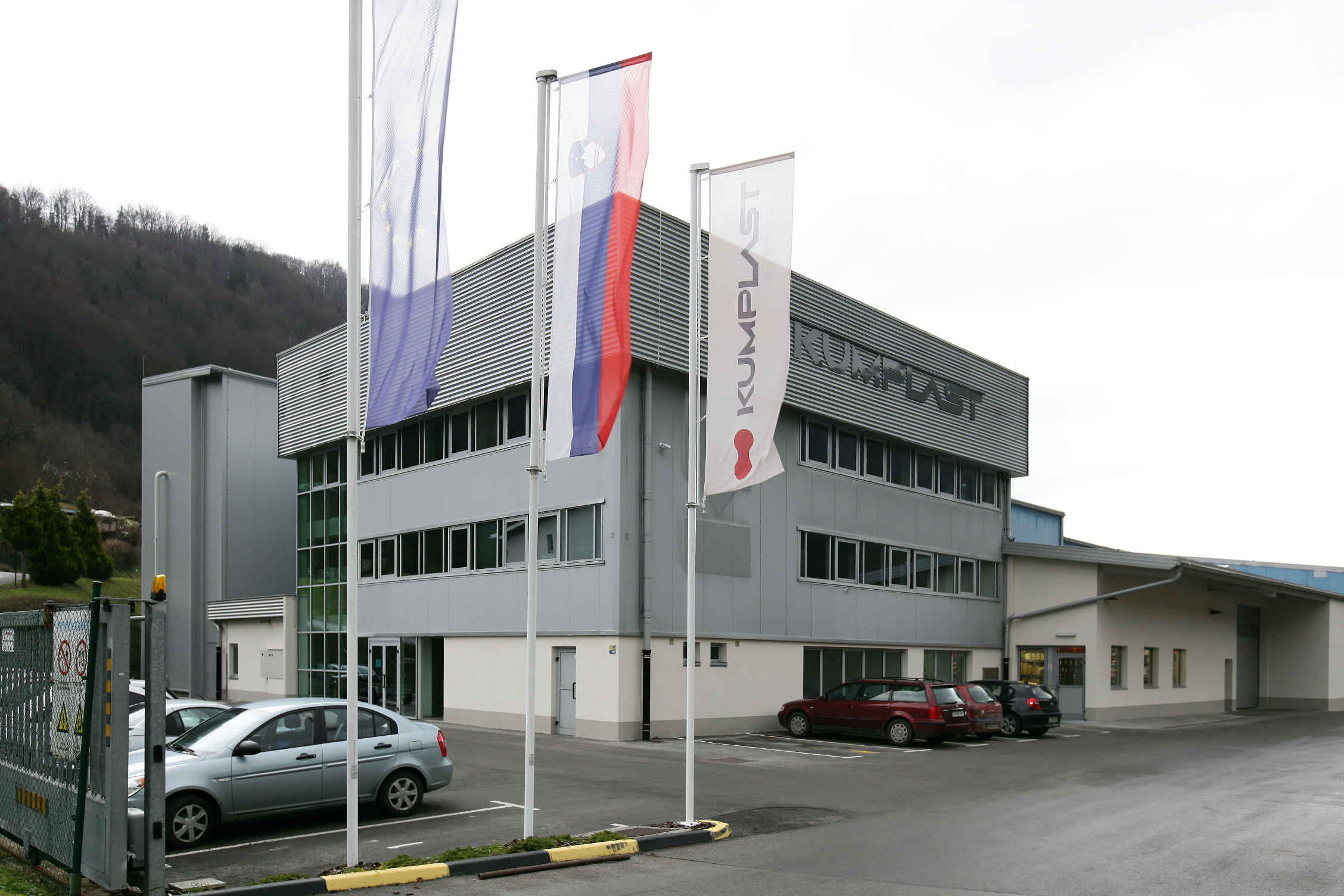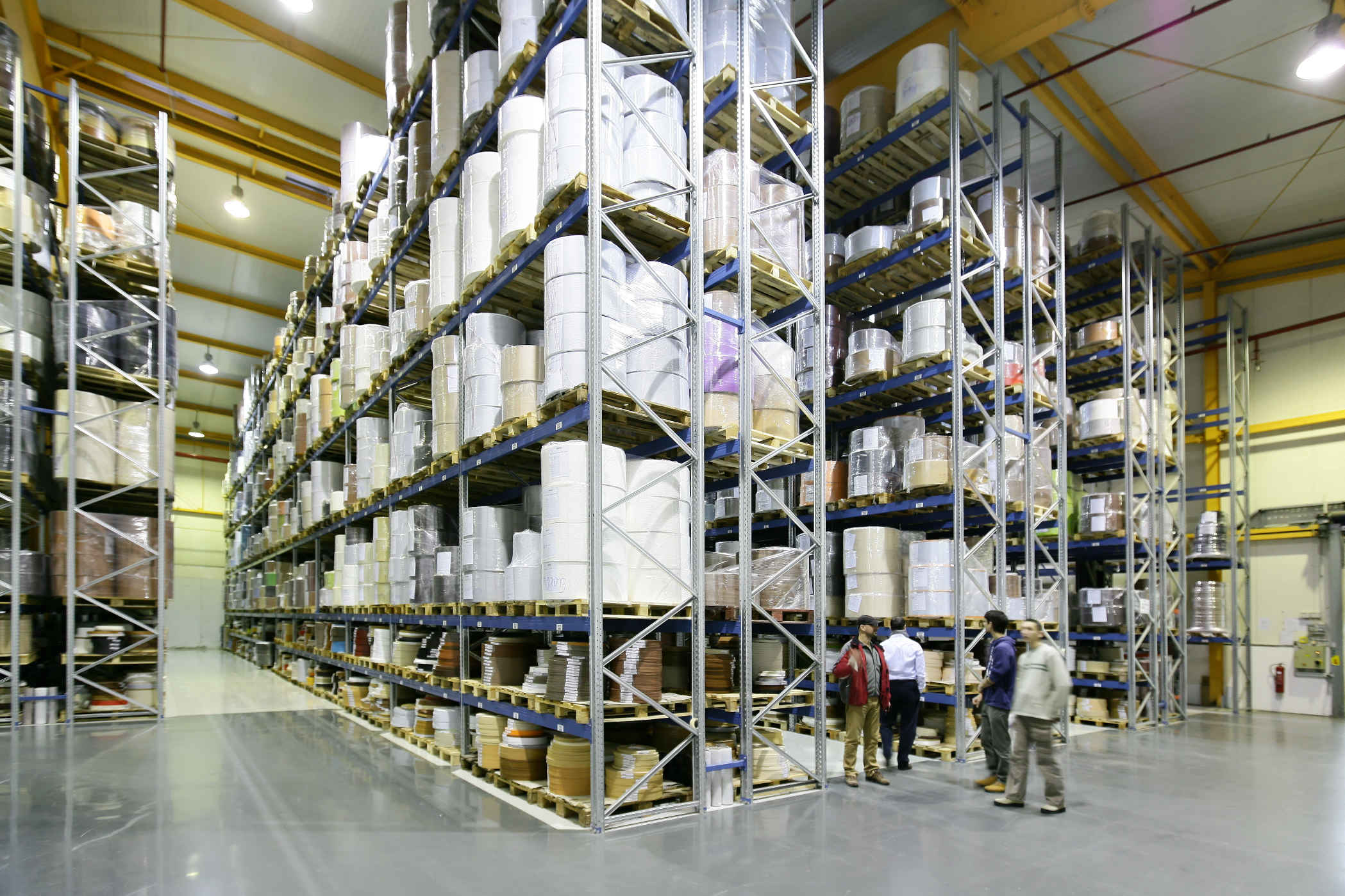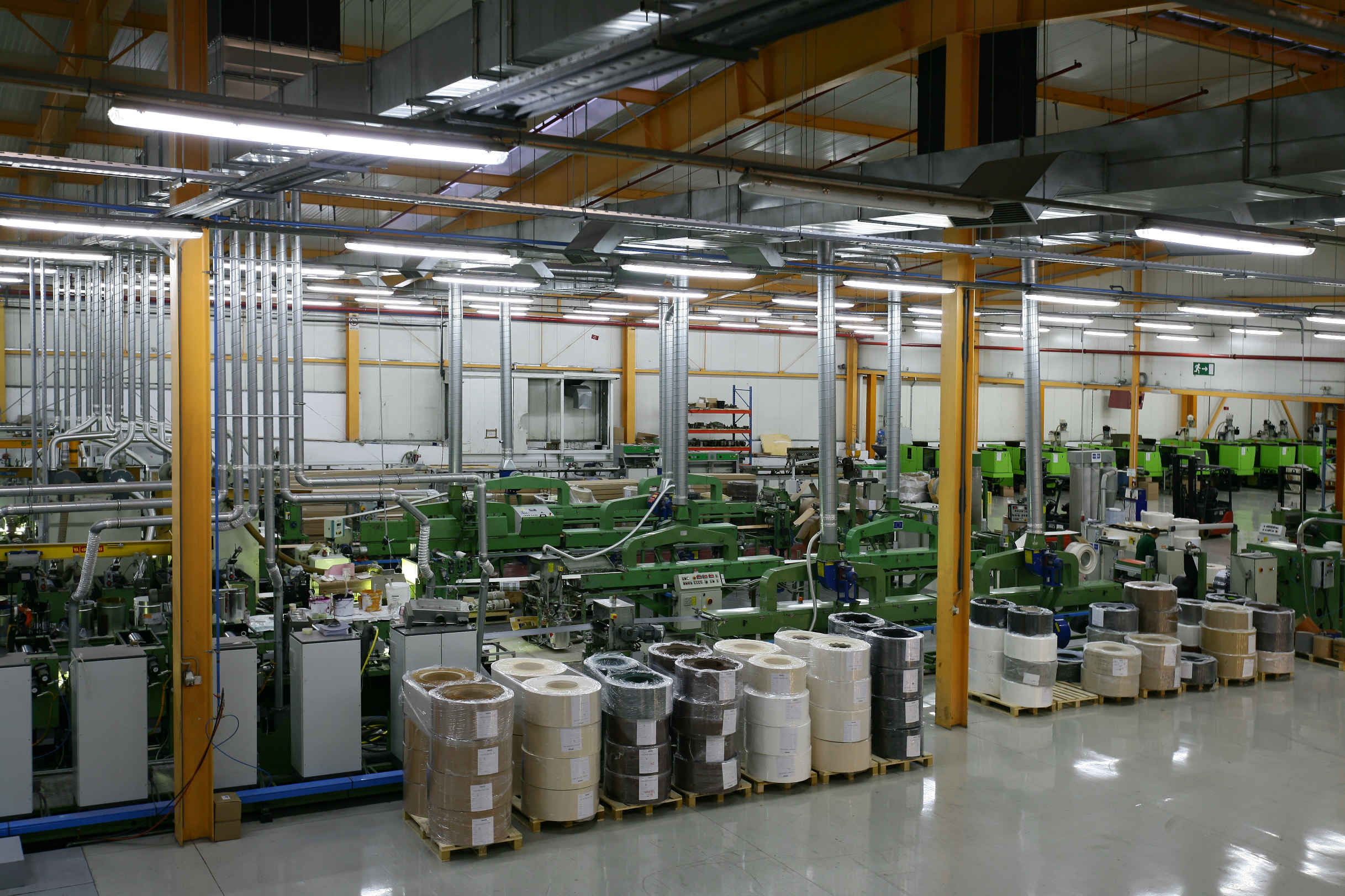 A Duna Élzárónál a Kumplast teljes élzáró termékköre raktárról elérhető. Ez azt jelenti, hogy 600 feletti azoknak a forgácslap dekoroknak a száma, melyekhez azonnal élanyagot tudunk kínálni! Mivel a Duna Élzáró 5 éve kizárólag a Kumplast élanyagait vásárolja, így a kedves Partnereink biztosak lehetnek, hogy egy elkerülhetetlen és igen szűk gyártási színtoleranciától eltekintve, mindig ugyanazt a színű ABS-t fogják megkapni. Ezt annyira komolyan vesszük, hogy projektek esetén ugyanazon napi gyártásnak lehetőleg ugyanazon a gépen készült tekercseit hívjuk le a Kumplastos raktárból: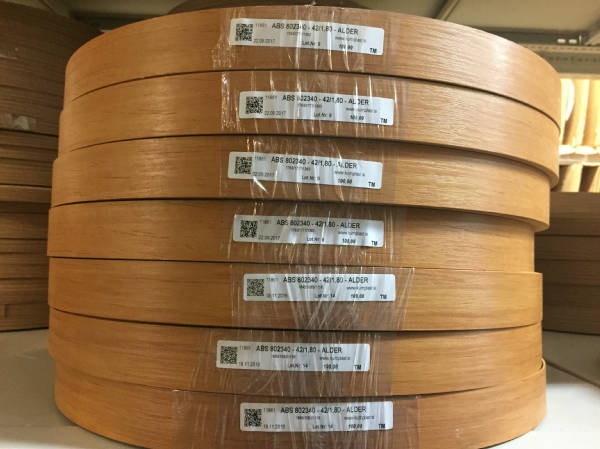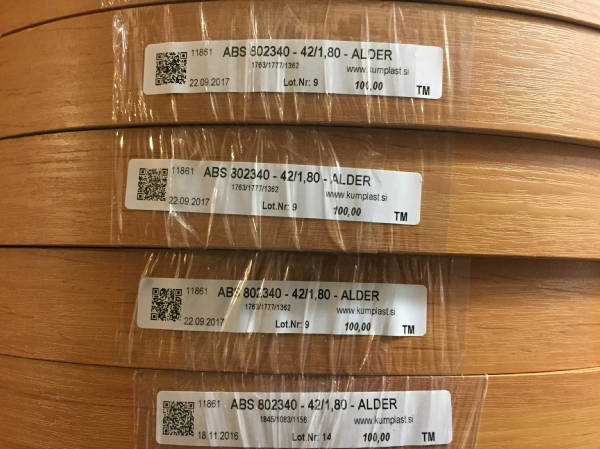 A képen jól látszik, hogy az AK802340 cikkszámú Éger 42/1,8-as élanyag egyik része tavalyi gyártású ( 2016.11.18 és a 14. anyatekercsből van vágva) a másik része pedig 2017.09.22-én gyártódott és a 9. számú anyatekercsből vannak az élanyagok.
Lehet, hogy egy kicsit túlzásba visszük a házon belüli nyomon követést... A versenytársaink túlnyomó része ugyanis nemhogy a gyártási napokkal nem törődik, hanem simán lecseréli a beszállítóját anélkül, hogy ezt jelezné. Persze a szakmában dolgozók nem vakok és előbb-utóbb észreveszik a turpisságot! Idén 263 új vevője van a Duna Élzárónak! És biztosan nem a Duna a legolcsóbb élanyagos a hazai piacon!
2. Új termékkör a Duna Élzárónál: Hibajavító viaszok és kréták
Ezzel a termékkörrel, ugyanúgy, mint az élzárógép által használt folyadékokkal, tulajdonképpen egy mindennapos vevői igényt fedünk le. Aki élanyagot ragaszt fel, annak bizony forgácslapot is szabnia, vagy szabatnia kell - akkor pedig igen is előfordulhat kipattogzás a lap felületén. A lágyviaszokat (80 x 12x12mm ) Németországból hozattuk be. Kiválasztottunk egy 29 színből álló kollekciót a legjobban futó EGGER, KRONO, FALCO és KASTAMONU dekorokhoz. Hasonlóan az új Biesenthal melamin fóliáinkhoz ( ha érdekli kattintson ide: 45 új Biesenthal melaminfólia raktárról ) itt is Mercedes minőséget árulunk elérhető áron.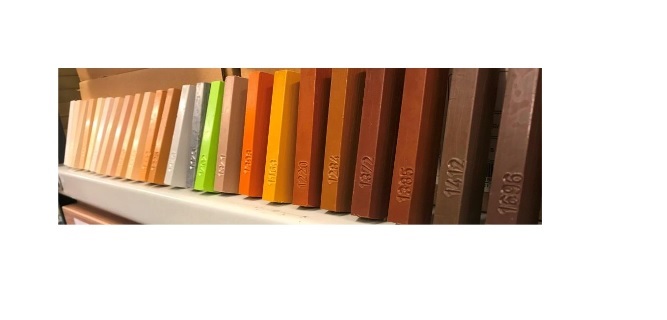 A képre való kattintás azonnal a Dunás WEB áruház megfelelő oldalára visz! Akit pedig a hibajavító viaszok forgácslap megfelelősségei és áttekintő táblázata érdekel, úgy azt feltöltöttem a szokott helyre a " Letöltések" fülbe: Kérem kattintson ide!
3. Dunás élanyagok és vasalatok 70-80%-os árengedménnyel!
A WEB áruházunkban több száz cikket leáraztunk 70-80%-al. Minden élanyag és vasalat 100%-os minőségű és természetesen jár rájuk a 30 napos pénzvisszafizetési garancia! Tévedni nem lehet, de komolyan pénzt megspórolni igen!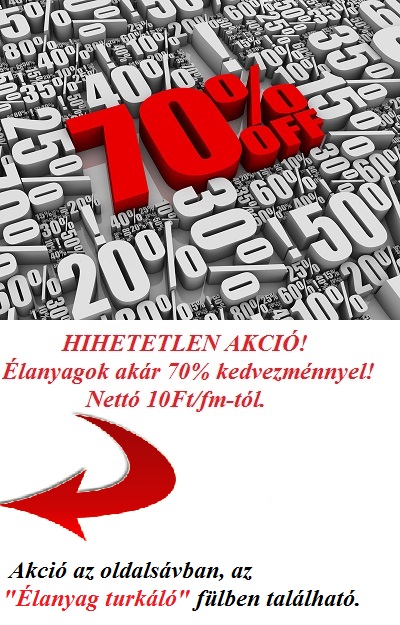 A képre való kattintás itt is Dunás WEB áruház akciós oldalaihoz vezet, melyek piros színnel vannak jelölve. Jó keresgélést!
Kellemes hétvégét kívánok minden kedves Partnerünknek,
Üdvözlettel: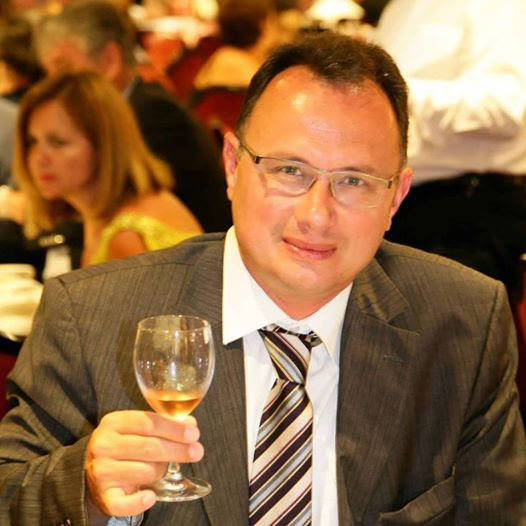 Dr. Nagy Béla Norbert
tulajdonos
és a Duna Élzáró Csapata
kumplast
Exclusive distribution of DunaTREND ABS products
Click on the picture for details!