Kedves Faiparban Dolgozó Barátunk,
A Dunás lányok bemintázták az ukrán gyártó, a Swiss Krono 2021-es = aktuális forgácslap mintáit. Mint a többi gyártónál, itt is a mindenki által szerkeszthető! EXCEL táblát töltjük fel, melyet kiegészítettünk egy Link gyűjteménnyel is. Ezek a linkek közvetlenül a Duna Élzáró WEB áruházának a megfelelő termékoldalához vezetnek. Bemintáztuk a következő gyártókat:
- BYSPAN ( 55 dekor)
- EGGER ( 225 dekor )
- FALCO ( 97 dekor )
- KASTAMONU ( 146 dekor )
- KRONOSPAN ( 126 dekor )
- SWISS KRONO ( 122 dekor )
Bemintázás alatt van a Pfleiderer Magyarországon elérhető dekor kollekciója is.
Ezeket a megfelelőségi táblákat, melyek tartalmazzák a forgácslap dekorok kis alakú képeit is, feltettem a szokott helyre a Duna Élzáró WEB áruházának a "Letöltések" fülébe. Mivel valószínű sok Partnerünk fogja ezeket a táblázatokat saját célra felhasználni, így a programozást egyszerűsítendő, most nem a szokott .pdf formában, hanem sima Excelben töltöttem fel.
A Gyártónkénti táblázatokat itt találja: Kérem kattintson ide!
Mivel a Falco, Kastamonu és a Byspan cégek rendelkezésemre bocsátották a 2020/2021-ben a legjobban futó dekorjaik listáját, ezért ezeket a dekorokat "TOP 1-30" és "TOP 31-50" külön színnel jelöltük az Excel táblázatban. A fenti cégek segítségét külön is megköszönöm!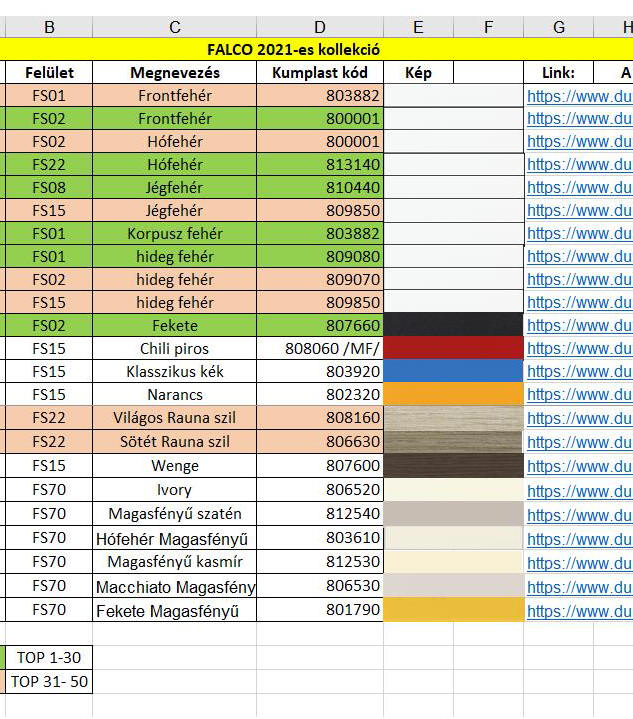 A Táblázat a Falco dekorok élanyag megfeleltetését, a TOP színeket és a WEB áruházhoz vezető linkeket tartalmazza ( kivonat )
Dunás ABS élanyag áremelés május 1-től:
Tegnap megjött az utolsó, nagy áremelés előtti 6 raklapnyi élanyag a Kumplastól. Beérkezett 223 féle ABS. Megjöttek azok a projekt rendelések is, melyeket a Dunás partnereink rendeltek raktárra. A Dunás lányok beérkeztették az élanyagokat a WEB áruházba, így most mindenki az aktuális készletünket látja.
Természetesen jövő héten ugyanígy meg fog jönni az áru, csak teljesen más egység árakat fogok a számláinkon látni. Ezt az áremelést kénytelenek leszünk áthárítani a nagyságrendje miatt. Ez kb. 20% listaár emelkedést fog jelenteni.
Az élanyagok áremelkedését kivédeni nem nagyon lehet, a versenytársaink beszállítói is hasonló nagyságrendben emeltek. Ami működik: Le kell hajolni a DunaFULLPACK kedvezményünkért. Ez 40% kedvezményt jelent a listaárból, azoknak, akik megtöltenek 1 GLS csomagot élanyaggal. Ez 30kg élanyagot = kb. 8 tekercs megrendelését jelenti. Ez a 40% kedvezmény ugyan a fix áras 18 fautánzat + 7 uni színű dekorra nem vonatkozik, de az összes többire = 450 dekorra igen.
A Dunás ingyenes tekercsbontási akció szintén marad, így a vevői igények méter pontosan – felár nélkül kerülnek kiszállításra. A lányok a Tekercsbontás díját, már átállították 0 forintra. A napi akciós árak és az ingyenes tekercsbontás csak a Dunás WEB áruházon keresztül beérkező megrendelésekre vonatkozik!
Akinek tervezhető projektjei vannak, az kérem adja le az igényét még áprilisban. Nagyot lehet spórolni vele. Amit raktárról ki tudunk szolgálni, még a régi áron számlázódik!
A Duna Élzáró WEB áruháza itt található: Kérem kattintson ide!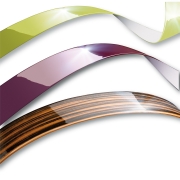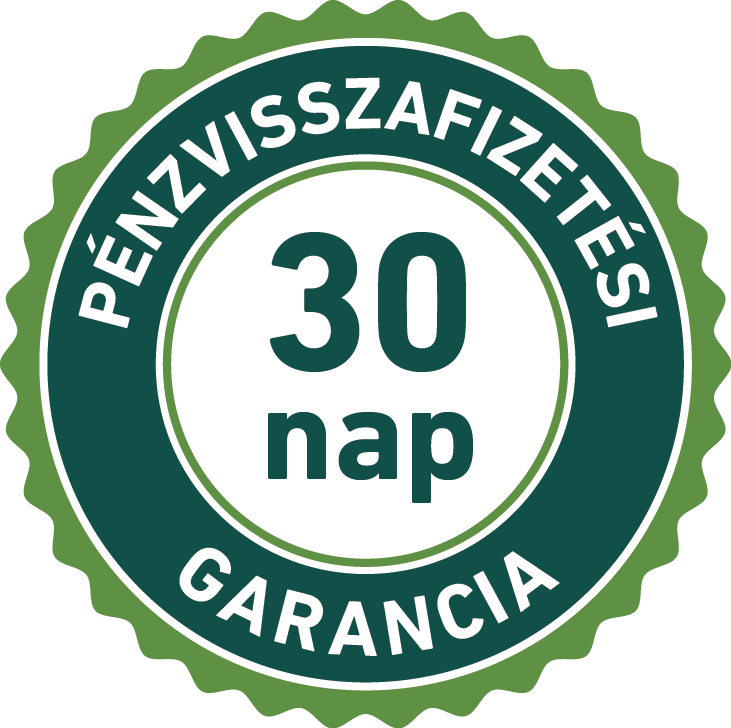 Élanyagok – vasalatok – ragasztók – kötőelemek - fogantyúk
További kellemes napot kívánok!
Üdvözlettel: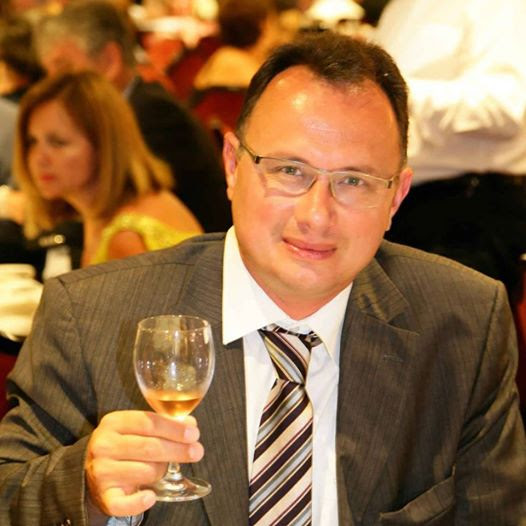 Dr. Nagy Béla Norbert
tulajdonos
és a Duna Élzáró Csapata
kumplast
Exclusive distribution of DunaTREND ABS products
Click on the picture for details!