Kedves Faiparban Dolgozó Barátunk,
a DunaTREND ABS-ek bevezetése óta nem kellett az alapkivitelek ( bő 300 dekor ) áraihoz hozzányúlnunk. Ennek a 4 éve tartó folyamatnak most vége szakad, mivel a szlovén beszállítónk megemeli április 1-től az árait. Az ABS élanyagok színezésénél felhasznált pigmenteknek ment fel az ára. Ezt az áremelkedést mi is kénytelenek vagyunk áthárítani, így a DunaTREND élanyagok ára 2017. április 1-től meg fog emelkedni 3%-al. Ez egy 70 Ft/m körüli fix áras élanyagnál 2 Ft/m-es emelkedést fog jelenteni. Kérem szíves megértésüket!
Szintén április 1-től megváltoztatjuk a tekercsbontásokra érvényes felárat. Az eddigi majdnem 500 Ft-os tekercsbontási felárat leengedjük az ötödére = 100 Ft/db-ra, de ezt a 100 Ft/db nettó összeget le fogjuk számlázni mindenkinek. 50m-enként ezután is ingyen bontjuk a tekercset! Természetesen az sem változik, hogy egy már bontott tekercs megvétele esetén nem számítunk fel semmilyen felárat. A Dunás WEB áruházban a tekercsek egyenként, pontos méretükkel egyetemben láthatók:
A lenti 21/1,8-as AK801260 cikkszámú Calvadost alapul véve jól látszik, hogy van 61 db standard 100m-es tekercs raktáron + van egy 115m-es nem standard + egy 70m-es már bontott tekercs. Tekercsbontási felár nélkül el lehet vinni bármely itt felsoroltat + szintén felár nélkül megy egy 50m-es bontás. Akinek meg mondjuk 27m kell, az egy százast fog fizetni a tekercsbontásért és megkapja a 27m-es tekercset. ( Persze ezután lesz egy 70-27= 43m-es tekercs raktáron, ami szintén tekercsbontás nélkül elérhető...)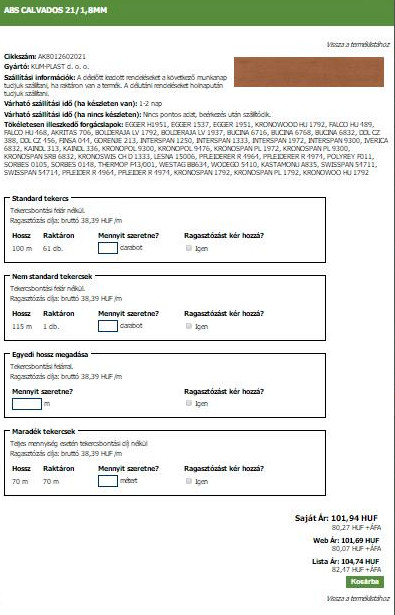 2. A mai teherautóval beérkezett 15db új DunaTREND ABS, főleg az új EGGER dekorokhoz bemintázva.
A következő hírlevelemben összefoglalom az új dekorokat és felteszem a forgácslap megfelelőségeiket a szokott helyre, a Dunás WEB áruház "Letöltések" fülébe.
3. Hogy ne csak az áremelésről szóljon ez a hírlevél - 20% kedvezmény az új DunaWOOD bükk és tölgy élfurnérokra!
Szolgaian leloptuk a nagy pénzleszívó áruházláncok saját márkás termék ötletét és alkalmaztuk a nagy szerelmemre, az élfurnérokra is. Az eredmény egy bő 20% árelőnnyel kínált, egyelőre csak gőzölt bükk és tölgy alapanyagból elérhető, kasíros ( = éllezáró gépre ) vagy ragasztós ( = vasalós ) kivitelű termék lett.
A Dunás csapat időközben elkészítette az új élfurnér árlistát, melyben ezek a saját márkás termékek ( gyártó szintén a Heitz cég ) zöld színnel és DunaWOOD felirattal lettek kiemelve. Az esetleges vevői kedvezmény nagysága ezeknél a termékeknél nem változik, így az árelőny bárki számára gyorsan számolható.
Az élfurnéros / élléces árlistát szintén feltöltöttem a "Letöltések" fülbe, melyre a kattintás azonnal odavezet: Kérem kattintson ide!
Minden kedves Olvasómnak kellemes hétvégét kívánok!
Üdvözlettel: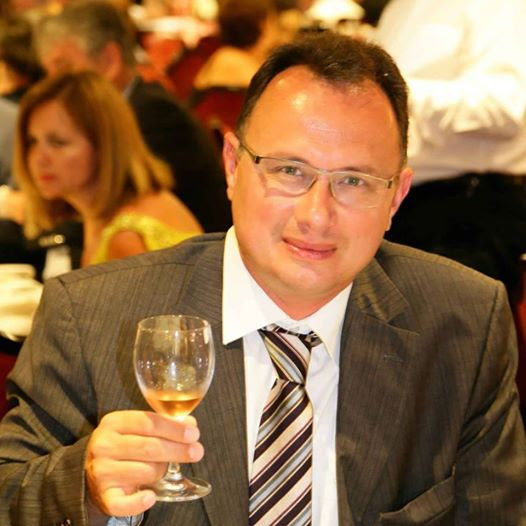 Dr. Nagy Béla Norbert
tulajdonos
és a Duna Élzáró Csapata
kumplast
Exclusive distribution of DunaTREND ABS products
Click on the picture for details!